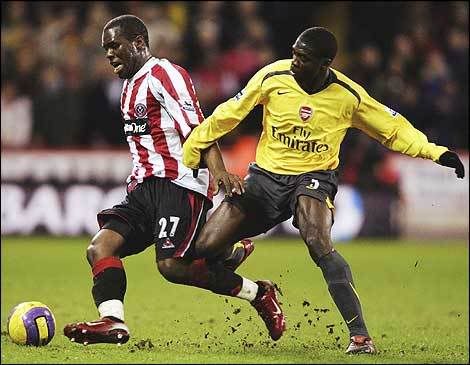 Toure was falling out with Wenger and everyone at the club at one point. Kolo Toure, the last survivor from the Invincible Team Have something to say about their relatively poor season.
Touré said: "We are still alive this season. We are not playing too badly, and we are getting a few players back, it's really, really important for our season.
"We could have done better in the [Roma] game, we had a few chances, a few occasions, if maybe we'd been a bit sharper.
"At the end of the day the most important thing was how we approached the game mentally; it was really strong from the start. All the young players have taken the responsibility and they did so, so well.
"I just can't believe it at the moment. When you go to penalties we are just close to going out, and we are really close to staying in the competition. At the end, when you are still in it, you feel so, so good, definitely.
"Now we have Adebayor, we have Fabregas, we have maybe Rosicky [coming back] and I think they are going to push us even more forward."
The Ivorian has no preference when it comes to Champions League Quarter-Final opponents, but he does hope for a more straight-forward encounter whoever the Gunners face.
"I think any team who is going to come is going to be a really good test for us," he continued. "All the top teams in Europe are there – any team we get is going to be really, really tight.
"We are really happy with what happened already, we have qualified in a difficult situation and we hope next time we can go more easier.
"It's going to be really tight, there are some really good teams out there, but we believe in our strength. It's a really tight position, anything can happen."
Arsenal is a good club with a very continental feel. They are good to watch but seem to lack something compared to the Invincible Team. It seemed the aura of invincibility is gone.
I wish them luck this season but i fancy Aston Villa's chances of a Top 4 spot more.