Alex Ferguson is contemplating David Moyes for the managerial job at Manchester United.
"David hasn't got the credit he deserves. "When you take everything into consideration, he's done an incredible job at Everton.
"He has not had the resources of other clubs but got all his younger players on long contracts and built around them with the likes of Phil Jagielka, Tim Cahill and Joleon Lescott.
"The signings he has made have been terrific and it means he has continuity for years."-The Sun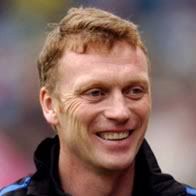 Alex Ferguson is considering retirement at the end of the season and have dropped a big hint on who will succeed him when he steps down.
But is David Moyes good enough to step into Ferguson's big shoes?
David Moyes Credentials:
With Preston North End
Football League Second Division
* Champions - 1999–2000
With Everton FC
The League Managers Association Manager of the Year Award
* Winner - 2002-03, 2004-05
FA Premier League Manager of the Month
* Winner - September 2004, January 2006, February 2008, February 2009
North West Manager of the Year
* Winner 2007-08
I believes it is misguided to suggest Ferguson's replacement required status. Many people are looking for a certain type or profile and David Moyes does not necessarily have that. But i think it is the team performance on the pitch that mattered in the end.
David Moyes may just be the right man for the job.