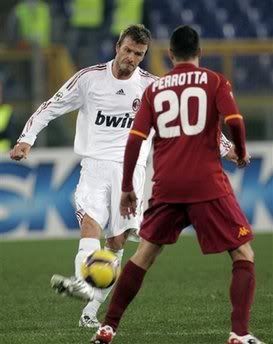 As a result of David Beckham's immediate success in Serie A, Milan have been linked with a permanent move for the former Manchester United superstar.
Beckham contributed to 2 assists and helped Milan to a 3-0 win over Lazio last Sunday. His performance has been of the highest quality of late fuelling speculation that the Rossoneri will try to extend his stay beyond March 9. David Beckham was expected to return to the United States ahead of the start of the MLS Season.
"He is a LA Galaxy player and we certainly cannot kidnap him," joked Milan president Adriano Galliani in an interview with La Gazzetta dello Sport.
"I think he wants to stay, but I can only speak on behalf of the club and I know that Milan will do everything to keep Beckham.
"We intend to keep him until the end of the season or even complete a permanent move. There is still hope, but contracts have to be honoured. However, if Galaxy want to enter negotiations, we will be happy to give it a shot. We have to wait."