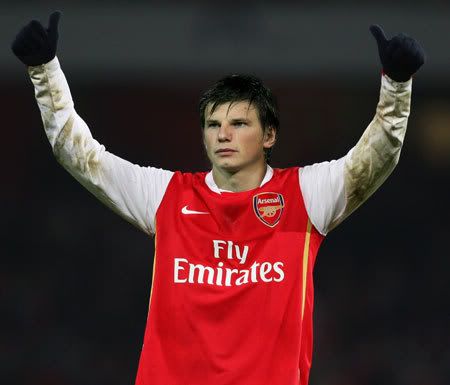 Arshavin wants to play in the FA Cup despite having his right foot almost torn apart in the game against Blackburn Rovers. It required 8 stiches but it is not going to stop Arshavin.
Wenger says," We will make a late decision. He is desperate to be involved. He just wants to play."
Andrey Arshavin has begged to play in Arsenal's FA Cup quarter final against Hull tonight - even though his foot has been "cut like a knife".
"Arshavin had eight stitches in his foot but he is still in the squad," Wenger said. "
It is amazing to see such enthusiasm these days. Almost like a young player eager to prove his worth to his manager. We rarely see such qualities in a top class footballer.
Arshavin said: "I can't even step on my foot now. It's like a knife cut - not very deep but quite painful. Blackburn is the toughest tackling team I've ever played against.
"Ooijer tore my boot and the skin too. At half-time, our doctor had to do a lot of work on my foot. So when I scored the second goal, I ran over to thank him for a job well done."
The Sam Allardyce's tough tactics had damaged the Russian's foot but not his spirit. Arshavin is very tough and has lifted the club spirits.
src="http://pagead2.googlesyndication.com/pagead/show_ads.js" type="text/javascript">