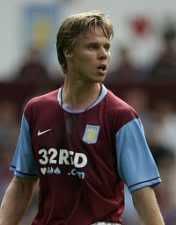 Skipper Laursen insists Villa can hold off Arsenal for fourth place and play in next season's Champions League.
O'Neill has been in charge for 2½ years. And the Danish defender said: "It's unbelieveable how much the manager has transformed the club.
"Villa were a sleeping giant but I never dreamt we would have this chance. We were fighting relegation at one point and the Big Four were miles ahead."
Laursen has been out since a knee op in January but is targeting a comeback at Manchester United on April 5.
He added: "It's been difficult to sit out such an exciting time."
O'Neill and O'leary. What is their difference? O'Leary took the club to 6th during his first season in charge and was mooted as the club's saviour. Claimed to have awaken the sleeping giant when he brought the club to respectable league table standings. It had become almost invariable for managers to receive a lot of compliment when they do a job at Villa.
But is Villa a very difficult team to manage? A club that is steep in tradition like Villa needs more than just a fourth spot? Martin O'neill threw the game at CSK Moscow when he rested 8 first team players. I don't think any giant will do such a thing. It is not good sportsmanship and O'neill ought to be reprimanded not celebrated.