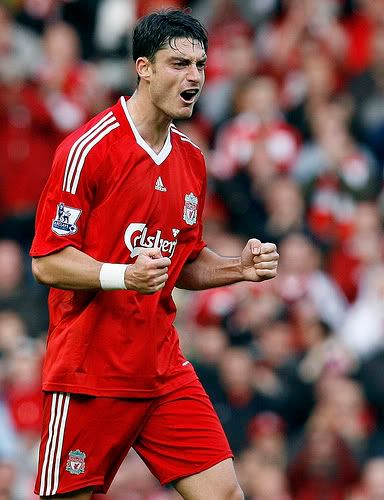 Albert Riera believes that Manchester United fortunes are waning and Liverpool is ready to capitalise on their dwindling club fortunes.
"With United losing like that, and now after us winning against Villa so well, I think that they can feel us near to them," Riera says.
"There are a lot of matches to be played in the Premier League and
the Champions League and there will be a lot of pressure and I think they can feel this.
"We surprised them a little with our win at Old Trafford last week, and against Villa I think we showed them that we are still fighting and that we will be until the very end."
"What was impressive – and perhaps the most important thing – was that the game against Villa was one we had to win – and we did it in style," he added.
"It was a great performance from everybody in the team. We controlled the game and we managed to score five goals which is fantastic.
"I'm pleased I scored. I don't score too many goals and I hope to score more in the future. But I enjoyed this goal because it helped us to get three points, which sent out a message."
Liverpool won a few matches but the title race is far from over. Man Utd is too strong for Liverpool in my opinion.
It had become almost a ritual for Liverpool players to post useless banters to the press when their form pick up a bit. I have heard this many times since the inception of the premier league. Liverpool never win the title before during this time.
I think it is about time Liverpool players do less talking and play some quality football to challenge Man Utd. Walk the talk and you will never walk alone.